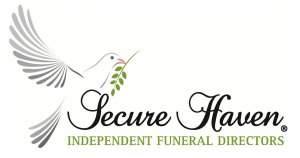 Email: support@securehaven.co.uk
No.1 Hospital Approach, Broomfield, Chelmsford, Essex, CM1 7FA
Secure Haven understands how important it is to ensure that your loved one is in the right hands and you are working with a reputable Funeral Director.
Please feel free to read through some of the recent comments from families Secure Haven has helped. At this significant time, it is important that you can find the right 'fit' for you and your family, as well as the ability to realise your loved ones wishes for their life celebration.
"Thank you so very much"
 Darren 01/08/20
Dear Paul and Cheryl,
Just a line to say how grateful we all are for the excellent way you have handled Mum's funeral, from start to finish.
We are immensely grateful to you for making such a difficult time, that much easier.
Thank you so very much, With all of our Best Regards,
Jason, Bradley and Darren.
"A very personal and thoughtful service"
 Danny 01/05/20
Cheryl and Paul you provide a very personal and thoughtful service. I would like to thank you for preparing a lovely and respectful funeral. It really was appreciated and you made everything so easy for us. The family and friends were very pleased with the service and the coffin was beautifully prepared. It was just so right for Tony.
Kind regards, Danny.
"I can't thank you enough"
 Carrie 29/04/20
I just wanted to take this opportunity to thank you so very much for all the care and support you gave me, especially, but Nikki and my family too at this impossibly difficult time. Thank you for your care of Mark too, knowing he was so well looked after and being treated as if he was family really made a difference to all of us, and we all commented on how you never wish to deal with a funeral for this reason (or any for that matter) but your guidance, understanding and support made all the difference and really helped me to give Mark the send off he so deserved. I can't thank you enough.
Thank you again, Carrie.
"The Webcast – what a great idea"
 Hilary 20/04/20
Apologies, I meant to write earlier but I am just catching up with things now.
Firstly we, as a family, want to thank you all for your help, advice and guidance during what was, and still is,  a very difficult time for us. We feel 'lucky' that with the circumstances we are under in this country that we were able to go ahead with the funeral with a reasonably good turn out considering. We were also able to forward the details of the webcast (what a great idea) to the many who were unable to attend for one reason or another which was gratefully received by all.
Kind Regards, Hilary and family.
"Thank you so much for your support"  
Lindsey 20/04/20
Hi Cheryl, just wanted to say a big thank you for  your organisation of Mum's cremation .
It was a very tranquil and peaceful end to her life and lovely to have you there on the day in rather peculiar circumstances. Thank you so much for your support.
If you will let me know when her ashes will be ready for collection I will arrange to come over in the next few weeks.
Keep well. Best wishes, Lindsey.
"You made a difficult time easier for them" 
 Maureen 18/04/20
Hello Cheryl & Paul,
Beryl and Jeanette keep thanking me for putting them in touch with you, and I just want to say thank you too. You made a difficult time easier for them.
I felt bad at not being there for Derek's funeral.  I am the only person now able to see my sister every day as she is housebound,  and I'm very aware that I am the one putting her at risk.  I would have liked to see you too just to say hello. On the day, although I had got everything set up to watch the webcast, it only kicked in half way through, my equipment to blame.  I've now watched it, and you did an amazing job.
You were very kind to them, so thanks again.  Very best wishes to you both, and stay safe.
Maureen x
"We've really appreciated the care you've shown" Abigail and Linda
We can't thank you and your team enough.
We've really appreciated the care you've shown to us and Dad. His memorial went well too and we are comforted to know he'll rest in peace until he's back with us again.
Sincerest regards, Abigail and Linda
"I can't thank you enough for your kindness" Margaret
I can't thank you enough for your kindness and attention to detail when working with me on organising mum's funeral. This is the second funeral I have planned, but was offered far more options and information than last time.
Knowing that you were there, to support and guide was a huge comfort to me at a difficult time. Your florist did an amazing job with the flowers – these are now in my courtyard where I can admire them.
On the day, Paul's reassuring presence helped to keep me calm – the day panned out exactly as I had planned, culminating in a very professional wake at The County Hotel.
With thanks and kind regards,
Margaret
"Secure Haven were fantastic" Jenna
I would just like to say thank you again for everything. Secure Haven were fantastic and it was a welcome surprise to find myself feeling so warmly towards funeral directors! You were the perfect balance of friendliness and professionalism and made the whole experience as easy as possible and I am very grateful.
I know it's perhaps not necessarily the done thing but if I ever need to recommend a funeral directors to anyone you will always be the people I would strongly suggest. Some family have already said they will bear you in mind for future and I have nothing but praise for you.
So thank you once again, I am sending you my very best wishes and kindest regards,
Love Jenna xx
"The team made the process as easy as it could be" Mrs Thombs
From the Start to finish of dealing with Secure Haven we were made to feel at ease and the team made the process as easy as it could be given the circumstances. We all felt very supported throughout.
Thank you!
Mrs Thombs
"Your professionalism is second to none" Tracy
I would like to thank Secure Haven for making the process as easy as possible for my mum's send off.
It was conducted beautifully with dignity and respect and your professionalism is second to none, everything was done with a personal touch which gave me faith in all at Secure Haven.
Thanks again.
Best regards,
Tracy
Feel free to call us on 01245 377077 or pop in anytime & we will guide you through the process.
Arrive as Friends, Leave as Family
 Contact Secure Haven no matter what time of day, to create a memorial service and life celebration tailored to your every need.
Secure Haven is happy to discuss any needs you and your family require. Meet in the Broomfield office or in the privacy of your own home.
CONTACT INFO
No.1 Hospital Approach Broomfield Chelmsford Essex. CM1 7FA
24hrs:   01245 377077
Alternative:  07436 531884
support@securehaven.co.uk