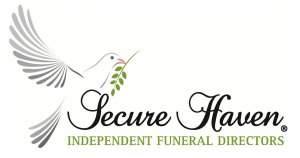 Email: support@securehaven.co.uk
No.1 Hospital Approach, Broomfield, Chelmsford, Essex, CM1 7FA
We strive to fulfil your wishes with a can-do attitude by personalising our packages to your wishes.
BURIAL SERVICES
A graveside funeral service can be held in a cemetery or churchyard of your choice with your loved ones gathered. The service will be officiated by a minister, civil celebrant or humanist (if requested). Secure Haven Funeral Directors will arrange all the necessary details required.
Please note that The Exclusive Rights of Burial must be purchased for the plot if you wish to have a memorial headstone placed on the grave after the mandatory six months for the ground to settle.
A funeral service can take place in a church, followed by a burial in the churchyard in a new or existing family grave. Fees are governed by the Church of England Parochial Fees. Other fees will include the organist, verger, heating and grave digger costs.
Where churchyards are closed, burials following a church service may still take place in a local cemetery owned by a parish council or within a crematoria cemetery owned by district councils or privately owned.
Please be aware that rules for memorials in churchyards are more restrictive than those in cemeteries. It is advisable to have this discussion with us before making final decisions for burials.
Secure Haven burial packages do also include doctors' fees.
We are following all of the guidelines regarding COVID-19 set out by the Government, Crematoria and Cemeteries and we are regularly updating families throughout their journey with us regarding any changes.
Arrive as friends, leave as family.
 Contact Secure Haven no matter what time of the day, to create a memorial service and life celebration tailored to your every need.
Secure Haven Funeral Directors are happy to discuss any needs you and your family require from Direct Cremation to a Traditional Church Service or Woodland Burial. Meet in the Broomfield office or in the privacy of your own home.
CONTACT INFO
No.1 Hospital Approach Broomfield Chelmsford Essex. CM1 7FA
24hrs:   01245 377077
Alternative:  07436 531884
support@securehaven.co.uk